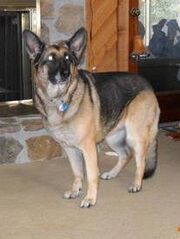 Here Kim the guide dog will give us her insights as to which restaurants in the Dragon Con vicinity are dog and disability friendly
Hsu's Chinese
Edit
If you like Chinese food, Hsu's is pretty good. Not as much variety as I would like, but its tasty. Going in the front door, someone in a wheelchair might get a little nervous about those three little stairs. Our party came in, including Kim the intrepid Guide Dog, and a wheelchair user, among others-- eyes those stairs, and then started discussing which other options were available to us. While we discussed, staff came up and started moving a huge Chinese vase and some greenery to uncover... TA DAAAA... a wheelchair lift. And a good time was had by all.
I give it the Kimmer 4 paws up! My mom and her friends got excellent and patient service and I was openly and professionally welcomed.
Durango's is GONE!! Oh, NO, the apocalypse is NIGH!
Edit
One of Kim's (and our) favorites, Durango's is between the Hyatt and the Westin. We especially like the patio dining area, and that is almost always where we choose to eat, in spite of the occasional whiff of icky cigarette smoke. Inside is nice too, and they don't even bat an eye when Kim comes in. The food is always wonderful, and they have lots of choices; steak, seafood, salads, Mexican, all of it yummy. This place, yeah, one of my very favorites, deserves my highest rating of 4 paws and a belly rub up!!! This place always smells so good and mom says the food is not only excellent, but pretty reasonably priced-especially for its prime location! The staff is courteous, friendly and almost always offers me my very own bowl of water-complete with ice cubes!!! Hey, if I can't share the food, ice is the next best thing!!! *big signature Kimmer grin*
Metro Cafe Diner
Edit
Yeah, this one is kind of scary. The restaurant is, like, three stories tall. There IS an accessible entrance, up the hill just past the main entrance a little ways, and they will set you up on the ground floor/bar area if you can't do the stairs. They have good food, Italian and Greek, humongous desserts. I'll give it a Kimmer 3 paws up, the stairs can be a pain and the tables are a little crowded underneath for big German Shepherd Guide Dogs like me, but we all manage ok. Mom says the food's good and the staff is friendly and helpful. Better get there early-and I mean early if you want Baklava-we're usually later and they're all out by then!
Gyro King
Edit
Just across the street from the main entrance to the Sheraton, Gyro King has simple fare; hamburgers, Gyros, and other sandwiches. Small, with a few outside patio tables, not a 5 star restaurant by any means, but for those of us stuck in registration all day, its good, close, and quick. Might be tricky for wheels or scooters to get into; sometimes people park so as to block the door. They have no problem with our favorite furry restaurant critic, though. Like the blurb says, simple, good and it's clean!; I can't find anything to scrounge-and yeah, I know I'm not supposed to, but while you can put the Guide into the dog, you can't take the dog out of the dog ya ken. I'll give this place 3 paws up. After hanging out inside for what seems hours, it's kinda nice to get outside for a while to relax. The staff's friendly and they get food out quick!
Ah, now Thats Italiano!. We had to go up stairs to get in... The accessible entrance is to the left of the stairs, up what looks like a little alley. The manager moved chairs and stuff to make room for furry restaurant critics, we thought that was really nice. The food was delish, authentic italian; the staff was friendly and nice. No one screamed at the dog (always a good thing.) I felt really welcomed here. They gave me a safe place to lay down, away from trampling feet. They didn't let me sample any of the food... SIGH. But I still give them 4 paws up.
Trader Vic's
Edit
A Tropical Paradise in the basement of the Hilton. The bestest food on Earth, if you have the Dinero to afford it. No obstacles to getting in, for wheels or 4-on-the-floor furry restaurant critics. Beautiful decor and remarkable ambiance; a truly unforgettable experience-- which is good, cause I don't think we can afford to go back. I could rest in comfort on the cushy carpet. No food, again, (sensing a theme here?), but I would have to give it 4 paws up, a belly rub, and a goofy sideways tongue lolling sloppy grin of ecstasy.